Hey guys. Before I dive into this week's fitness review, I wanted to share this post I read on Foodiecology, titled "An Open Letter to the Women Who Read Healthy Living Blogs." The post discusses how reading about the wellness-inspired choices other people make can leave us feeling shitty or inadequate.  I definitely related to the sentiment of unspoken competition with total web-strangers. It starts earnestly as piqued curiosity and is furthered by internet anonymity where we don't see the full picture.
Part of the reason I started this blog is because I'm a regular person.  Anyone who knows me IRL knows I've no natural gift toward athletics. (My high school friends still exclusively see me as a klutz. Whatever.)  But what I do have going for me on this forum is that I'm not shy and I'm eager to share my failings along with my successes. (Honestly am a little more excited to share the fails because they make for way funnier blog posts.)
Earlier this week I shared a quote that read: "I will not compare myself to strangers on the internet." When I read the Foodiecology post, I thought yes. This. Good reminder. So I wanted to share it with you.
But without further ado, every time I worked out last week. (And remember this is not my whole life. This is a mere hour of each day. The rest of the time I am at a desk binge eating PopChips.)
Monday: The Lincoln Square Lululemon offers a free run club every Monday night. I went once before but it fell off my radar and I hadn't been back since. This Monday I jogged to the store and joined a group of the most positive people ever for a 1.5 mile run to Central Park, 30 minutes of sprints, push ups, planks, lunges, strides and more in front of the Bandshell and a 1.5 mile run home. This was a tough but incredibly uplifting workout.
Tuesday: Less than 12 hours later, Matt and I were up and out and headed downtown to Astor Place to take Flywheel Astor Place's inaugural spin class. The new studio is gorgeous, with 5 showers and I think 70 bikes. The workout was tough, especially on tired legs. I love being downtown in the morning. After a shower, Matt rode downtown on a CitiBike (because 45 minutes of cycling wasn't enough) and I headed uptown to work on foot stopping at City of Saints Coffee Roaster for an iced coffee. (Walking coffees are my absolute favorite, and they taste pretty great after a 7am spin class.) Also this class was free, not because I'm an awesome, desirable fitness influencer but because a friend who lives near by received a link to a free class and shared it with me. Just being uber transparent.
Wednesday: I woke up at 5:40am and ran somewhere between 7 and 8 miles because I went to November Project. November Project is a free, outdoor workout that's pretty much the happiest place you could be at 6:28am on a work day. Matt and I had went once before over a year ago, when the group hosted a workout in Columbus Circle. This morning we ran to Carl Schulz park (86th/East River) for the Wednesday workout. It was awesome, silly and challenging. If you don't know what November Project is, I encourage you to let Ali Feller and Kelly Roberts catch you up.
Thursday: Rest day.
Friday: Unintentional rest day.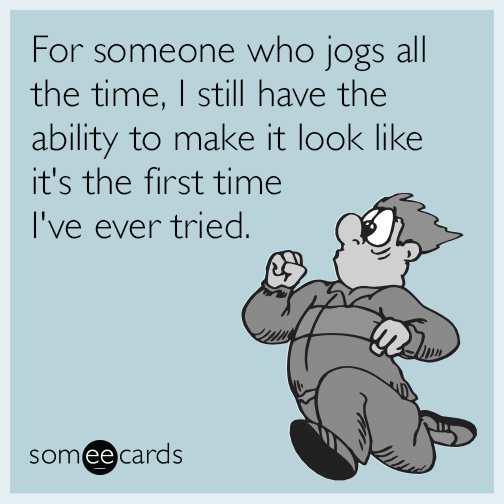 Saturday: I was in Austin for work and woke up in the early am (in advance of an all-day, all-weekend conference) for a 7-mile run along the Town Lake Trail/Lady Bird Lake Trail. I remembered this route from past visits to Austin, but I failed to remember that it's made of dirt. It rained the night before, so I ran 7 miles in the heat, through mud. It was slow, but fine. I would've liked a running buddy, which I never say. Let's mark the day of this personal transformation (3/12/2016).
Sunday: I did some very abbreviated stretching in my hotel room. Like for 5 minutes.
That's all she wrote! How was your week? Tell me EVERYTHING!